In the age of two-hour Amazon order deliveries and real-time package tracking, customers' expectations around online orders and package deliveries have increased in recent years. The fact that 95% of U.S. shoppers won't buy from a retailer again if an order is not delivered on-time is a sign of the times.
Considering 60% of e-commerce revenue comes from repeat customers, losing any customer due to late, lost, returned or otherwise undeliverable shipments, inevitably, can result in significant revenue loss from critical revenue sources.
Undeliverable as addressed (UAA) packages are costly for online retail businesses. Beyond losing valued customers, UAA results in costly shipping expenses and productivity losses, particularly when customer support representatives and order fulfillment teams lose time handling related complaints and 'return-to-sender' packages.
UAA mail is a recognized cost issue that the United States Postal Service (USPS) is trying to mitigate. Despite efforts, only modest improvements have been made. Between 2014 and 2017, the UAA went from an annual cost of $1.5 billion to $1.2 billion. Meanwhile, the mailing industry as a whole loses approximately $20 billion/year to UAA.
A quarter of all UAA mail in the U.S. is due to invalid or incorrectly formatted addresses. According to USPS' most recent data:
33% of UAA mail is 'not deliverable as addressed'
13% of the time delivery was 'attempted' but the address was 'not known'
5% had an 'insufficient address' (e.g., missing apartment numbers)
2% had 'no such number'
for almost 1% 'no such street' existed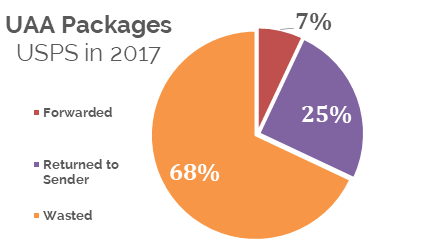 Although rarely mentioned in e-commerce 101 primers, UAA can quickly become one of the top challenges for an e-commerce store to manage. While priorities and challenges differ among stores, with the growing number of global shoppers afflicted by the 'clumsy finger syndrome,' an impairment correlated with mobile phone purchases and occasional late-night binge shopping, UAA rates are not declining with better access to data and information. For businesses shipping UAA packages, the majority never make it to their intended recipient. As shown in the graph, the vast majority of USPS UAA packages are "wasted," while a quarter are "returned to sender."
UAA creates a revenue loss, which is the last thing any online retail business wants. No matter if you're delivering locally or worldwide, undeliverable packages inevitably have associated costs. Wasted packages are also wasted time and money.
For online retail stores, the bottom-line impact of address entry mistakes vary by the order volume, product qualities, delivery areas and type of online retail business. In the U.S., according to various sources, retail businesses are estimated to lose between $4 billion and $5 billion a year due to UAA shipments.
Shipping carriers also estimate significant errors and costs. DHL estimates that about 10% of addresses entered for shipping online orders are incorrect, while other sources estimate address entry error rates as high as 20%. E-commerce is a $400 billion dollar market globally, so, if we assume that UAA is the result of the 10% error rate, roughly $40 - $80 billion of retail goods are either wasted, returned to sender or forwarded.
What's being done to reduce or eliminate UAA?
Many online store owners are using address autocomplete in hopes that it will reduce shipping address entry errors.
Autocomplete allows shoppers to select an address from a dropdown menu, once they have typed a few street numbers or letters in the first address field. While autocomplete may only save shoppers mere seconds out of their day, beyond the time savings, it allows them to skip the repetitive, mind-numbing excruciation of typing one's address, yet again, on yet another online form. Today, with so much of our lives and business online, any time-saving, effort-reducing tool is bound to be well-received. And for store owners, the reduced level of effort and friction at check-out is likely to have positive impacts on conversion rates. Autocomplete, however, is a tool that tends to benefit online shoppers more than store owners.
Store owners often hope that autocomplete will also reduce the amount of returned shipments and time spent handling associated customer support issues. However, autocomplete was not designed for this purpose. Databases for autocomplete tools provided by Google, Bing and other mapping resources rely on geocoding information, as we explain in this article. While autocomplete is, no doubt, a useful feature, its database was initially designed to help people get from Point A to Point B, not to align with postal service databases or ensure conformance to postal standards, formats and information requirements. In other words, autocomplete isn't equipped to ensure packages are accurately addressed so that they can be delivered to the right place, in a timely manner.
If not autocomplete, then what?
Address verification is the best way to ensure that customers' shipping information is accurate and formatted to postal delivery standards. Since every country's postal service has its own address format and standards, there is no global standard for address formats or information requirements.
While other verification tools exist, Streety is the only one that has been designed by an e-commerce entrepreneur to solve address challenges specific to e-commerce. All of its features, functionality and pricing model are attuned to the needs of e-commerce businesses. And beyond what the solution currently does, Streety continues to expand and grow its product, based on the specific needs of its customers.
If you deliver products ordered online, locally in a small region or internationally, across multiple countries, Streety is the solution you never knew you wanted. It validates and standardizes international shipping information for 240+ countries. And with the option to verify both after purchases are submitted and during checking-out, providing customers a user-friendly, pop-up nudge to correct an order before submitting, it provides the assurance you need to deliver with more confidence and lower costs.
Address entry errors are an over-looked but active perpetrator of these e-commerce waste: wasted deliveries, wasted time and wasted costs. Don't let UAA get the best of your business. Visit streety.io or contact us for more information: cx@streety.io